EHR PARTNERS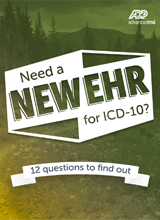 Need a new EHR for ICD-10?
The delay of the ICD-10 conversion gave many private practices—and their EHR and practice management vendors—the time they needed to prepare for ICD-10. However, industry experts fear that many vendors aren't going to make the postponed deadline. And there is no reason to think the October 2015 deadline will be pushed back.
Editorial Questions? Contact the Editorial Team Click Here. Sales, Reprints, Classified questions? Contact the Sales Team Click Here.